Battle Academy 2: Eastern Front released
September 12th, 2014
Ice, Molotov Cocktails and Heavy Tanks
Battle Academy's sequel is out now!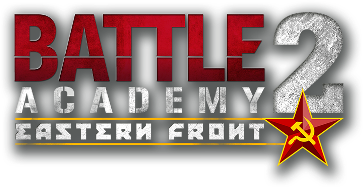 Epsom, UK – September 12, 2014.
"The enemy is at the gate. It is a question of life and death." (Andrei Zhdanov – Soviet Politician)
June 21, 1941 – German troops cross the border in Soviet-occupied Poland and instantly break the Non-Aggression pact between Germany and the USSR. This massive and brutal operation opened a huge new front in Europe. While the initial advance was fast and surprising enough to allow the Germans to reach the gates of Moscow, the invaders quickly had to deal with a valiant resistance from the Red Army and endure the tough Russian winter. Soon the Eastern Front became the most ruthless and bloodiest front of the entire war…
In Battle Academy 2, players can join either side and re-fight some of the key operations that made the east front legendary. Not only does this sequel capture the essence of the gameplay of the series that made Battle Academy so successful and accessible but also introduces numerous features for a brand new tactical experience. 4 story-driven campaigns, a random map generator, multiplayer modes with cooperative and versus gameplay, a unique skirmish mode that allows to generate an infinite number of customized scenarios and much much more. The Eastern Front is waiting for the most demanding strategy gamers!
Today we have the pleasure to announce that the game is finally released and available on both our online stores and on Steam. In order to celebrate this important milestone, we are offering a $10 discount to the early adopters during the week of the launch! We are also going to offer a free Steam key to anyone who has a copy the game, wherever they bought it from, once the game is available on this digital platform!
Get more information on Battle Academy 2 from its heartrending teaser trailer, its punchy gameplay trailer and its official Steam product page.
Slitherine is part of the Slitherine Group
About the Slitherine Group
The Slitherine Group is the world's leading producer and publisher of digital wargames and strategy games. Under the Slitherine (www.slitherine.com), Matrix Games (www.matrixgames.com) and Ageod (www.ageod.com) brands it has published literally hundreds of games, with many award-winning titles in its portfolio and spanning all digital platforms, from home consoles to modern Smartphone's and Tablets. Slitherine is also involved with book publishing, board gaming and works with a wide array of key licensing partners, such as HISTORY®, MILITARY HISTORY®, Games Workshop®, Horrible Histories™, Showtime, BBC, Osprey, Scholastic, Buzz Aldrin Enterprises and many others to deliver the best blend of historical accuracy in an exciting and entertaining way. Together the Group companies form the world's largest organization specializing in this important and vibrant niche. The Slitherine Group's mission over the coming years is to lead the way in innovation and growth in an ever expanding segment of the entertainment industry.